Ex-beauty queen Rachel Hatton cleared of fraud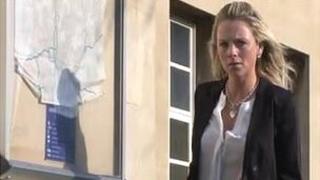 A former Miss Great Britain contestant wept as a jury cleared her of benefit fraud.
Rachel Hatton, 29, of Foxfield Way, Northampton, was accused of claiming benefits while living with her boyfriend between 2009 and 2011.
Nathaniel Simon, 36, of the same address, was also acquitted of providing false tenancy information.
The pair, who had denied the claims, were cleared following a trial at Northampton Crown Court.
Prosecutors had claimed Ms Hatton was in a relationship with her landlord, Mr Simon, and continued to claim benefits from South Northamptonshire Council while they lived together in a four-bedroom house he owned.
But Ms Hatton denied the claims and told Department for Work and Pensions investigators that they had never been in a relationship, the court heard.
During the trial, barristers representing Ms Hatton and Mr Simon said the prosecution did not give any "clear evidence" that they were living together.
'No evidence'
Derek Johashen, for Ms Hatton, said: "No one went to Ms Hatton's rented property to check if Mr Simon's clothes were in the wardrobe.
"There was also no evidence of officers contacting the neighbours to ask if they were living together."
He told the court that Ms Hatton, an ex-army officer, had never been in trouble and answered all questions honestly during two interviews with investigators.
Ms Hatton was the first single parent/divorcee to be allowed to enter the Miss Great Britain competition.
The mother-of-one won the regional title of Miss Warwickshire before going onto the finals of the 2010 contest.
She previously served for five years in the Army as a telecommunications specialist with the Royal Logistics Corps.
Ms Hatton was found not guilty of one count of making false representation, two counts of fraud by failing to disclose information and a further count of fraud by false representation.
Mr Simon was cleared of providing false information in relation to the tenancy agreement he had with Ms Hatton. He was also found not guilty of fraud by failing to disclose information.