Ex-Miss Great Britain contestant in 'false benefit claims'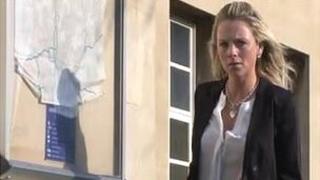 A former Miss Great Britain contestant falsely claimed thousands of pounds in benefits while living with her boyfriend, a court has heard.
Rachel Hatton, 29, of Foxfield Way, Northampton, denies carrying out the fraud between 2009 and 2011.
Northampton Crown Court heard Ms Hatton claimed £511 a month in benefits, legal aid and income support.
Nathaniel Simon, 36, of the same address, denies fraud and providing false tenancy information.
Slept in caravan
Jurors were told Ms Hatton did not tell South Northamptonshire Council that she was living with her partner, Mr Simon.
Ms Hatton told the council that Mr Simon was her landlord when she moved into the four-bedroom house that he owned in Northampton, the court heard.
She made claims for council tax and housing benefit, legal aid and income support and was awarded £511 towards her £675 monthly rent.
Laura Hobson, prosecuting, told the jury that the relationship was not a commercial landlord-tenant arrangement and the pair were romantically involved.
She told jurors the pair's relationship would have affected the amount of benefits Ms Hatton received.
The court heard that Mr Simon, who owned a number of properties, did not make Ms Hatton pay utility bills or make up the shortfall for the rent.
It was also claimed that Mr Simon slept in a caravan on the driveway of the house while Ms Hatton lived inside.
'No relationship'
The court heard that Ms Hatton told investigators she had slept with Mr Simon but had never been in a relationship with him.
"He's not the sort of guy I would want a relationship with, to be honest," she said in police interview.
"He's my landlord. I can probably understand how it looks now I've been brought in but there's no relationship at all."
Ms Hatton was the first single parent/divorcee to be allowed to enter the Miss Great Britain competition.
The mother-of-one won the regional title of Miss Warwickshire before going onto the finals of the 2010 contest.
Ms Hatton denies one count of making false representation, two counts of fraud by failing to disclose information and a further count of fraud by false representation between 2009 and 2011.
Mr Simon denies providing false information about the tenancy agreement he had with Ms Hatton. He has also pleaded not guilty to fraud by failing to disclose information.
The trial continues.