Sarah Dunlop died after Northampton hospital failures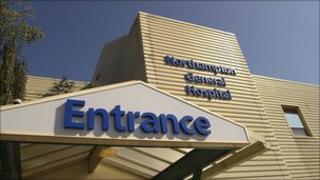 A mother died shortly after giving birth to twins following a series of failures by hospital staff, an inquest heard.
Sarah Dunlop, 35, of Northampton, suffered a cardiac arrest after undergoing a caesarean section at Northampton General Hospital last year.
A drug was wrongly administered and test results were incorrectly analysed.
The hospital has apologised for its errors and said improvements to its procedures had been put in place.
Mrs Dunlop was showing signs of pre-eclampsia before her caesarean section, but staff at the hospital did not spot them, the inquest at Northampton's County Hall heard.
Her twin boys were delivered at 12:40 BST on 11 July, and she was then moved to the observation area of the labour ward.
Her kidneys failed and she started haemorrhaging. She went into cardiac arrest, and despite efforts to resuscitate her, died just after 22:30 BST.
The two-day hearing was told she was given a pain relief drug that should not be given to women with pre-eclampsia.
After being transferred to the observation area she was not closely monitored, her urine was not tested and her blood tests were not analysed properly.
'Should have looked'
Susan Lloyd, the consultant obstetrician who carried out Mrs Dunlop's caesarean, admitted she did not go through blood test results before the operation.
She said: "I knew the anaesthetist would look at them. I didn't look at them myself.
"I should have looked at them myself."
Dr Mohammed Khakil, a registrar, examined one set of results but failed to notice anything unusual.
An ECG test, used to measure heart activity, was not carried quickly enough.
When it was conducted it showed irregularities, but doctors began to question the equipment rather than accept and address the results.
Coroner Thomas Osborne said a senior midwife failed to convince the doctors that something was wrong.
'Let her down'
Owen Cooper, the consultant who led an initial investigation into Mrs Dunlop's death, said: "There were failings.
"I'm not going to defend it. We let this woman down.
"Clearly the severity of Mrs Dunlop's illness was not recognised."
The coroner said had Mrs Dunlop's symptoms been identified, she would have probably survived.
Recording a narrative verdict, he said staff failed to recognise the serious nature of her condition, resulting in failure to treat it.
But he said he was satisfied that the trust had investigated thoroughly.
Dr Sonia Swart, medical director at Northampton General Hospital NHS Trust, said in a statement: "We offer our deepest sympathies to Sarah's family and we are very sorry for the failings in the care that were identified by our own investigation and have been confirmed by the inquest.
"The trust fully accepts the coroner's verdict."
She said the circumstances leading to Mrs Dunlop's death had been very rare and the trust was confident its maternity service was "fit for purpose".
Dr Swart said procedures had been changed and the Royal College of Obstetricians and Gynaecologists had been asked to review the maternity unit and its processes.