Naseby battlefield visitor centre site could be sold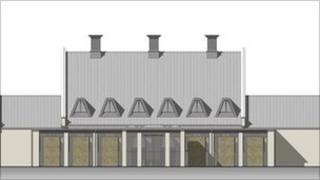 Land earmarked for a visitor centre at Naseby battlefield in Northamptonshire could be sold unless £300,000 is found to buy it, say project supporters.
Six donors who loaned money to buy the land four years ago now want their money back.
Naseby Battlefield Project, which was formed 12 years ago, said it was struggling to get the further support needed to build the centre.
Jenny Tarry of the project said plans might have to be revised.
People are being asked to help buy the land.
'Great resource'
Richard Putt, one of the donors, said: "We were expecting to sell the land back to the project four years ago but because of the current economic situation that has not happened yet.
"Unfortunately, we can't keep waiting indefinitely."
The Battle of Naseby in 1645 was the decisive battle of the English Civil War and one of the most significant in British history.
Mrs Tarry said: "We are not abandoning the project altogether but if we don't raise money for this land, we are going to have to revise our plans.
"Our current site is absolutely ideal and we already have planning permission on it.
"In a couple of years' time, the civil war is going to be a part of the national curriculum, so a visitors' centre would be a great resource for schools in Northamptonshire."
Daventry District Council approved planning permission for the visitor centre in July 2011.