Korean War dead honoured with Northampton plaque restoration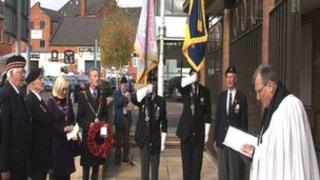 A newly restored stone plaque has been unveiled to commemorate the servicemen from Northamptonshire who lost their lives in the Korean War.
The plaque in Abington Square in Northampton lists the servicemen from the county who made the ultimate sacrifice in the war, which ended in July 1953.
Veterans attended a memorial service held at the same time.
A minute's silence was observed at 11:00 GMT to remember the dead.
The plaque has been restored in time for the 60th anniversary of the armistice next year.
'Value and respect'
Craig Harrison, who served with the Royal Tank Regiment, said: "If we didn't have a plaque we would have nothing at this memorial which honours those lost at the Korean War.
"Not only does it commemorate the ceasefire, but it also remembers the people who were left behind who paid the full sacrifice."
The leader of Northampton Borough Council, David Mackintosh, was also at the service.
He said: "It is only right we take time to remember the veterans' sacrifice, and the restoration of the Korean War memorial is an important part in showing how we still appreciate, value and respect what they did so far from home."
The ceremony was organised by Northampton Borough Council, the Royal British Legion and the Korean Veterans Association.