Egyptian statue sale: Action group set-up in opposition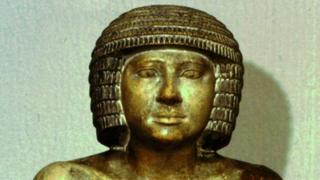 Campaigners against the sale of an ancient Egyptian statue have formed an action group to fight Northampton Borough Council's decision to sell it.
The Conservative-run authority said the statue of Sekhemka worth £2m, would be sold because it was not a "key part" of Northampton's heritage.
A council spokesman said the money would be reinvested back into museums.
But Save Sekhemka Action Group wants the 2400 BC statue to remain as part of the town's collection.
'Important artefacts'
The group is made up of several organisations such as The Northamptonshire Ancient Egyptian Society, Art Fund Northamptonshire and The Friends of Northampton Museums and Art Gallery.
Ruth Thomas, vice chairman of Save Sekhemka Action Group (SSAG), said: "The group feels that people need to know about this otherwise this could be the start of us losing many of our valuable assets.
"Sekhemka is one of our most important artefacts."
SSAG said it has set up a website and Facebook page for the campaign.
Brandon Eldred, cabinet member for community engagement, said: "We want to make sure that when we sell it, we raise as much money as possible to reinvest back into our museums and heritage.
"At the same time, we will ensure the statue does not leave our town for anything less than we feel it is worth."
The council said it will begin a public consultation to decide how the money should be spent.