PCC election: Suspended Labour man Lee Barron still a candidate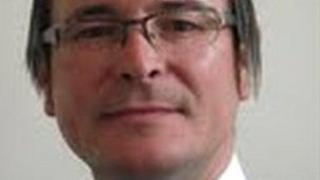 A man standing for the police and crime commissioner (PCC) post in Northamptonshire remains a candidate, despite pulling out of the election.
Lee Barron said he would not be campaigning and the Labour Party had suspended him after it emerged he had a criminal conviction from 22 years ago.
Candidates could not withdraw at this stage, said the Electoral Commission.
The Home Office said if a disqualified candidate won there would have to be a by-election.
The post would become vacant straight away and an acting PCC would be appointed by the Police and Crime Panel until the by-election was held, which would be within 35 days.
'Bigger picture'
The law bans anybody with any conviction for an imprisonable offence, regardless of whether they were actually jailed, from taking up the post of PCC.
Mr Barron, chairman of East Midlands TUC and a former Northampton councillor, revealed on Wednesday he had been convicted of a minor offence when he was 19, for which he was fined £20.
He said he had disclosed his conviction, believing it would not prevent him from standing.
But in a statement on his Facebook page, he said he had asked Labour to withdraw its endorsement of his candidacy and to suspend his campaign.
"I know many have been so supportive during this campaign and I hope I have not let you down," he wrote.
"But the bigger picture, the integrity of the party and the other candidates is more important than me.
"We must not let this badly-pieced-together, ill-thought-out legislation take away from the wider campaign any longer."
'Withdrawn our support'
An East Midlands Labour Party spokesman said: "We are disappointed to learn from Lee Barron that he has a previous conviction which bars him from standing as a candidate in the police and crime commissioner elections.
"The Labour Party has therefore taken action. He has been suspended with immediate effect and we have withdrawn our support pending an investigation."
The election on 15 November is being administered by Kettering Borough Council.
It said the names of all five nominated candidates would appear on ballot papers and that the election count would not be affected.
The Electoral Commission confirmed that a candidate could not withdraw from the election after 24 October.