Labour PCC candidate for Northamptonshire pulls out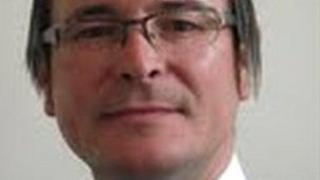 The Labour candidate for the police and crime commissioner post in Northamptonshire has pulled out of the contest after it was revealed he had a conviction from 22 years ago.
Former Northampton councillor Lee Barron said he was fined £20 for a minor offence when he was 19 years old, but had thought he could still stand.
He has since found out the conviction bars him from being a candidate.
The Labour Party said it was disappointed.
An East Midlands Labour Party spokesman said: "We are disappointed to learn from Lee Barron that he has a previous conviction which bars him from standing as a candidate in the police and crime commissioner elections.
'All make mistakes'
"The Labour Party has therefore taken action. He has been suspended with immediate effect and we have withdrawn our support pending an investigation."
Mr Barron, who is chairman of Midlands TUC, said in a statement: "When I applied to be a candidate for the role of police and crime commissioner (PCC) I understood that a minor offence committed some 22 years ago, which led to a £20 fine, would not invalidate my candidacy. As somebody who has served, and indeed still is, a sitting magistrate of almost 10 years, I was confident of my position.
"All of us can make mistakes. It is what you do following that, which... makes you the person you become. One mistake should not debar people from seeking public office who can take their life experiences with them particularly if those experiences have changed that person for the better.
"In recent days the origins of my fine and the charge I was under at the time have been deemed to be in breach of the legislation which allows candidates to seek the office of PCC. Despite the fact that this offence was fully declared and widely known, it came as a shock that the current legislation is so stringent that it could impact upon my candidacy.
"I have asked the Labour Party to withdraw its endorsement of my candidacy for the post of PCC and to suspend my campaign forthwith.
"I know many have been so supportive during this campaign and I hope I have not let you down."