Man arrested after crashing into Northampton pub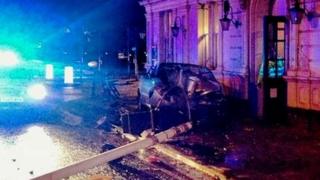 A 24-year-old man has been arrested on suspicion of drink driving after a car crashed into a pub in Northampton.
The Renault car hit a lamppost and traffic lights before ploughing into the White Elephant pub, Kettering Road at 02:00 GMT on Monday.
A woman has also been charged with assaulting a police officer.
The police said the two people involved were not seriously injured and the road was reopened after the wreckage was cleared.