Bond fingerprint gadget helps fund Northamptonshire Police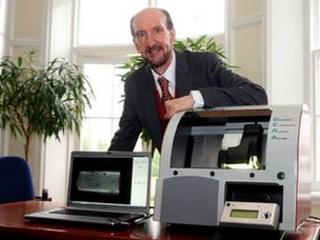 A machine that uses a pioneering process to reveal hidden fingerprints on metal is earning Northamptonshire Police "several thousand pounds".
Developed by Dr John Bond, the force's former scientific support manager, the unit reveals the prints using a large electrical voltage and ceramic powder.
The process of "fingerprint visualising" was patented by the force so it could earn royalties.
The first device has now been sold to a police force in America.
Dr Bond still retains close links with the force, although he is now employed by the University of Leicester.
He said: "I am delighted to hear that the first machine has been sold and this is bringing some benefit to policing in Northamptonshire.
"It reflects that CERA (Cartridge Electrostatic Recovery and Analysis) is now established as a new way of finding fingerprints. The innovation is not a flash in the pan."
'Lockerbie bombing'
Dr Bond created CERA in 2008 using homemade components joined together by twisted wire and gaffer tape. It was then developed in collaboration with scientists at the University of Leicester's department of chemistry.
The technique reveals previously undiscovered fingerprints on metal, especially gun shell casings, by applying a large voltage to the metal and then adding ceramic beads coated with a fine powder to the surface.
This reacts with the corrosion on the metal left over from fingerprints, even after they have been wiped off, revealing the original fingerprint pattern.
Dr Bond said that in the future, CERA may reveal fingerprints from surfaces exposed to extreme heat or from a weapon that has been disposed off down a drain.
"It has enabled investigators to look at historic events like the Lockerbie bombing from a different perspective, opening up new opportunities from items that may have been handled by the bomber," he said.
Police hope the technique can provide breakthroughs on previously unsolved cases.
Northamptonshire's Chief Constable Adrian Lee said: "A key part of improving trust and confidence is crime reduction, and anything which helps detect offenders is a key part of this.
"The link between developments in forensic science aiding detection of offenders, and trust and confidence, is clear."