St Andrew's Healthcare in plan for £52m Northampton unit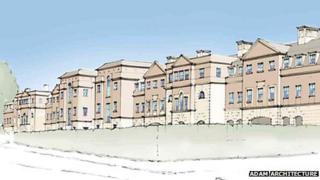 A mental health charity in Northampton has revealed plans to build a 90-bed psychiatric unit.
The six-unit facility, costing £52m, will be built on the St Andrew's hospital site off Cliftonville Road.
It will feature "low secure wards" for people preparing to return home. Construction is expected to begin next year, pending planning approval.
St Andrew's Healthcare chief executive Philip Sugarman said about 400 people would work in the facility.
He said some of those would be existing staff "but quite a substantial number will be new posts".
"We're working now on which different patient groups will be in those units," he said.
Demolition of school
Northampton Borough Council is expected to make a decision on the plans by the end of spring 2013.
If approved, the new unit will be built on the site of the old Cliftonville Middle School.
The school, which will be demolished as part of the plan, is currently being used by the organisation's administration staff.
The charity said it hoped the new hospital would be open by the end of 2014.
St Andrew's Healthcare is the UK's largest charity sector provider of NHS care and employs more than 4,000 staff across its operations in Birmingham, Northampton, Nottinghamshire and Essex.
The hospital has provided psychiatric care in Northampton since 1838.