Lava & Ignite club crush deaths: Key witnesses sought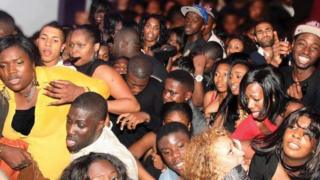 Pictures have been released of people police want to contact about a Northampton club crush which led to the deaths of two women.
The women died in hospital after the Wickedest Wickedest event at the Lava & Ignite nightclub in October last year.
Officers are issuing posters to universities across Britain in the hope of identifying 28 key witnesses.
Students Nabila Nanfuka, 22, and Laurene-Danielle Jackson, 19, both from London died in the crush.
Ms Nanfuka, from north London, was studying leisure and tourism at the University of Northampton. She died at Northampton General Hospital.
Ms Jackson, 19, from Shepherd's Bush, was studying psychology and criminology at Kingston University London and died at Leicester Glenfield Hospital.
CCTV clips from inside the club are also being released and circulated via Facebook.
About 1,500 people were at the club late on 18 October and early on 19 October.
Many were university students who travelled to Northampton in coaches.
More than 1,000 people interviewed so far include those at the event, emergency services staff and club employees.
Not crime suspects
Det Insp Louise Hemingway, from Northamptonshire Police, said: "Whilst we have a clear picture of what happened, there is a small number of key witnesses who were in the immediate vicinity of where the two young women were crushed.
"We need the help of the people in the CCTV and the poster to piece together what happened.
"No-one is in trouble - we don't suspect anyone in these images of a crime - we just need their help as key witnesses to what happened during the tragedy so that we can bring our investigation to a conclusion.
"Please contact us if you're in the poster or CCTV clip or recognise anyone. A photo or video can tell us many things but only the people who were there on the night can tell us first hand."
Angela Ferdinand and Ronato Jackson, the parents of Laurene-Danielle Jackson, said: "We would like to make an appeal to any one of the 28 people who have not yet come forward who attended the Lava & Ignite nightclub in Northampton on the 18th of October 2011."
The investigation remains ongoing and the officers are working alongside health and safety investigators from Northampton Borough Council.