Northampton chef in poppadom stack world record bid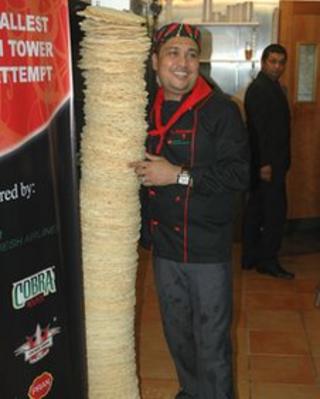 A chef from Northampton believes he has broken the world record for building the tallest stack of poppadoms.
Tipu Rahman, a curry chef originally from Bangladesh, runs the Tamarind Restaurant on Wellingborough Road in Northampton.
About 1,280 poppadoms were used to increase the existing record of 5ft 2in (1.57m) to 5ft 8in (1.72m).
Mr Rahman, who spent two hours cooking the poppadoms, said getting into the record books was a lifelong dream.
"I've always thought about doing something like this," he said. "It is important for me and the Bangladeshi community as a whole.
"I chose poppadoms because when you walk into an Indian restaurant that is the first thing that you would ask for and they can be made quickly."
Four judges watched Mr Rahman, who won the title of the Indian Chef of the Year in 2009, at the restaurant.
Bobby Baidwan, an independent technical judge, measured the poppadom stack as it was being built.
He said: "I thought the whole thing went really well. We will take all of the reports from the judges and a video diary and send them to Guinness for verification."
Guinness World Records said it was waiting to receive the evidence to confirm whether a new world record had been set.
The existing record was achieved by Nahim Aslam of the Indian Ocean Restaurant, Ashton-under-Lyne, on 24 March 2011.