Rushden Lakes retail park: East Northants Council approves plans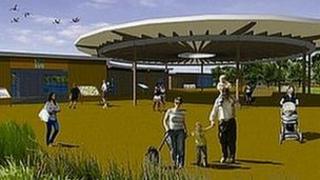 An out-of-town shopping centre in Northamptonshire has been approved by councillors despite objections from neighbouring towns.
The £50m Rushden Lake retail park would include 20 shops and create 1,500 jobs on the outskirts of Rushden.
But local authorities in Corby, Kettering, Northampton and Bedford councils claim it would have an adverse impact on their town centres.
But East Northants Council said it took independent advice before approval.
The Secretary of State will now make the final decision.
Pauline Bradbury, from East Northants Council, said they were told by a consultancy that "there would be no significant adverse conditions to neighbouring towns".
Mrs Bradbury said outlets in the new retail park, which would include a garden centre and a hotel, would be different to current stores in the surrounding area.
Gavin Stollar, from the developer LXB Retail Properties, said: "Councillors found that the substance in support of the application for the regeneration of the area and the need for jobs was more persuasive."
Kettering Borough Council said it was disappointed by the decision.
Christopher Lamb, from the council, said: "Not only does this development contradict local and national planning policies, but we believe it will also threaten investment in Kettering and other towns."