Heritage centre plan for Roman site in Northamptonshire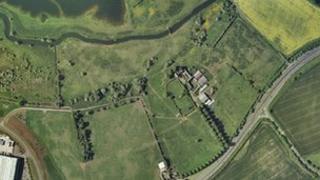 A heritage centre could be built on the Northamptonshire site of a Roman settlement as part of a £4.1m lottery bid.
Chester Farm, a 40-acre site in Irchester, includes traces of Iron Age enclosures and a medieval town.
The county council, which owns the site, has received £135,000 of lottery funding to form a "detailed development plan".
Jim Harker, council leader, said the site was a "true heritage jewel".
The heritage centre could be built along with a countrywide archaeological archives store. Further excavation would also take place on the site.
'Microcosm' of archaeology
Archaeologists from the University of Northampton will be working with the council to excavate the site.
Steven Young, senior lecturer at the university, said: "This site is a microcosm of the archaeology of the county. It will be open to local people and allow them to find out about their roots."
Jim Harker, leader of Northamptonshire County Council, said: "Chester Farm is a true heritage jewel, which has over 2,000 years of history in one place.
"Its heritage survives under the ground in the landscape, the buildings, maps, photographs and people's memories."
Mr Harker said an "ongoing exploratory excavation" involving 12 schools was already under way.
The 17th Century Chester Farm manor house, severely damaged by fire in 2010, was repaired using a £1.9m insurance pay-out.