Timothy West and Prunella Scales in Onley marina protest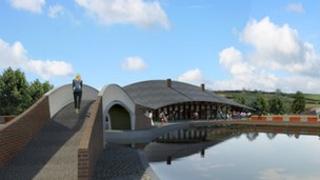 Husband and wife actors Timothy West and Prunella Scales have joined protesters against a planned 550-berth marina in Northamptonshire.
J Marine Ltd wants to build the 90-acre Barby Pool Marina at Onley Park, near Daventry.
Those supporting the plans claim it will transform a "most awful area" which has been neglected.
But others are opposing the proposals and on Sunday staged a rally near the site.
Poetry reading
Leading the protest were West, who starred in films including Cry Freedom and The Day of the Jackal, and his wife, who played Sybil in the comedy series Fawlty Towers.
They were joined by about 50 people at bridge 81, which straddles the canal and which would be the entrance to the marina if it secures planning permission.
The protest included a poetry reading on the bridge and a tour of the area for the couple.
In the planning application, which is with Daventry District Council, the developers said they wanted to create an "extremely high quality" marina with four 'pools' each holding between 48 and 182 berths.
The developer has been backed by a number of residents including Frank Brannigan who said the land had been "left derelict" adding: "This is the most awful area."
"Nobody was prepared to do anything it it," said Mr Brannigan. "So I am all for it (J Marine's plans) and I love my countryside."