Wellingborough prison reopening 'not ruled out'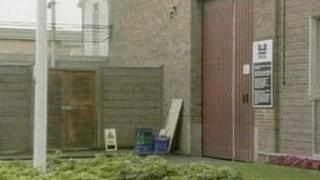 A prison in Northamptonshire which faces closure could be reopened in the future, the prisons minister has said.
HMP Wellingborough on Millers Park, which opened in 1963, will shut in December.
The Ministry of Justice said it was "too expensive" to run, but local residents and MP Peter Bone said the closure would affect the local economy.
Prisons minister Jeremy Wright, who visited the jail on Thursday, said the prison could be used again.
The minister said many of the prison's wings needed substantial repairs which would cost up to £30m.
He said: "I can't say that this prison will remain open and we will stop the closure for December.
"But we have not ruled out the possible use of this site in the Ministry of Justice's plans for the prison estate in the future."
'Phoenix rises'
Mr Bone said: "Quite a bit of the minister's visit was spent looking at land within the prison boundary that could be developed into new blocks.
"If that happens we would have more people employed in the prison and more indirect jobs in the town."
Protesters against the closure of the 600-inmate prison said they would continue their campaign to have a prison in the town.
Lynn Holcombe, from Locals Against Wellingborough Shutting (LAWS), said: "We will fight to get a bigger and better prison and hopefully make more jobs for people. The phoenix will rise from the ashes."