David Cameron visits Corby ahead of by election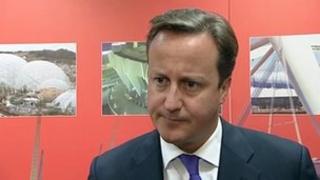 Prime Minister David Cameron has visited Corby to give his support to the Conservative candidate ahead of the town's by election.
The seat, held by the Conservatives since the 2010 General Election, is to be contested following the resignation of MP Louise Mensch.
Mr Cameron said Corby needed an MP who "understands business", adding "we have that in Christine Emmett".
Eleven other candidates have been selected for the by election.
Mr Cameron visited the town's steel works.
'Debts and deficits'
"What we see in Corby is that the claimant count is falling, youth unemployment came down on the last count, business creation is going up, there are new businesses and new jobs are coming to Corby," he said.
"We have got to build on that but we've got to recognise we have to deal with debt and deficits."
He denied he was fighting a lost cause in Corby - a Labour seat between 1997 and 2010.
Mrs Mensch, a best-selling author of chick-lit under her maiden name Bagshawe, stood down in August to spend more time with her family.
A date for the by election has not been set but it is likely to be held alongside the police crime commissioner elections on 15 November.
The candidates so far are:
Independent candidate James Delingpole; Conservative Christine Emmett; Liberal Democrat Jill Hope; Lord Toby Jug of the Official Monster Raving Loony Party; Young People's Party candidate Dr Rohen Kapur; Independent Adam Lotun; Margot Parker of the UK Independence Party; Peter Reynolds of CLEAR Cannabis Law Reform; Gordon Riddell of the British National Party; Andy Sawford of Labour Co-Op; Christopher Scotton of the United People's Party and the English Democrats' David Wickham.