King's Cliffe radioactive waste site stays open until 2016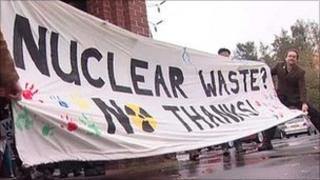 A hazardous waste site in Northamptonshire has been given permission to remain open for a further three years despite protests.
The site near King's Cliffe, run by Augean Plc, accepts hazardous material, including low level radioactive waste.
The contract was due to expire in 2013 but an application to extend it until 2016 was granted by the county council.
Campaigners against the site said they were disappointed but not surprised by the decision.
Effects 'unknown'
Chris Leuchars, from the King's Cliffe Waste Watchers, said: "If the county council had objected it would have been subject to yet another expensive inquiry and the result would have gone to the same secretary of state who allowed it last time."
The King's Cliffe Waste Watchers group said it was concerned about co-disposal of low level radioactive waste with other hazardous materials.
The group claims the long-term effects of this process is still unknown.
"We think 250,000 tonnes a year of this co-disposal is quite a large way to start an experiment of this nature," said Mr Leuchars.
Paul Blackler, chief executive of Augean, said: "This co-disposal process is well proven, we have been managing hazardous waste of this nature for a number of years.
"We operate to the highest standards and are subject to rigorous controls and scrutiny from the regulators."
The company said there was a clear national, regional and local need for the King's Cliffe site to continue operating.
Waste, including paint used to create luminous dials, contaminated soil from a flint-making factory, and rubble from the decommissioned nuclear power plant in Sellafield has been dumped on the site since December.