Wellingborough Prison: MP discusses "disgraceful" closure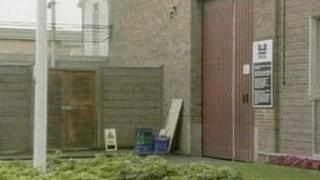 An MP has met with the government to discuss what he called the "disgraceful" closure of the town's jail.
HMP Wellingborough on Millers Park, which opened in 1963, is due to close in December with a loss of 600 places.
The Ministry of Justice announced the closure in July, saying the jail was "outdated and too expensive" to run.
Wellingborough Conservative MP Peter Bone said the closure would also affect businesses in the town.
Mr Bone, who led a Commons debate on the prison, said many Wellingborough firms provided services for the prison.
"This is one of the worst decisions that this government has made and it needs to be reversed," he said.
A Ministry of Justice spokesperson said: "Closing outdated and expensive prisons is an important step in our strategy to deliver a fit-for-purpose modern custodial estate that can provide high-quality, cost-effective and secure regimes that protect the public and reform prisoners."