Two more candidates join the Corby by-election race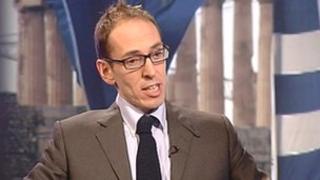 Two more candidates have announced their intentions to contest the Corby and East Northants seat in the by-election due to take place in November.
Independent candidate James Delingpole, a Daily Telegraph journalist, has joined the race to campaign against wind farms in Northamptonshire.
Margot Parker, the UK Independence Party candidate, said she would focus on youth unemployment in her campaign.
The election was called after Louise Mensch stood down as Conservative MP.
'Wind farm capital'
Mr Delingpole said the county was being "unfairly picked on" when it came to wind farms.
He said wind farms were inefficient and a waste of taxpayers' money.
There are currently three wind-farm proposals, in the Barnwell, Chelveston and Molesworth areas of the constituency.
Mr Delingpole, who lives in west Northamptonshire, said: "Northamptonshire is supposed to be the wind farm capital of Britain and I think people don't deserve this. I think the county is being unfairly picked on.
"I haven't got a snowball's chance in hell of winning this election but I have a chance of speaking on behalf of many people who don't have a voice right now."
'Corby Cube'
Mrs Parker said she would highlight issues surrounding unemployment affecting both the youth and the long-term unemployed.
"I have a neighbour who is a nurse and has two children but she can't get back into work simply because she can't afford childcare," she said.
The Corby Cube, which houses council offices, a library, theatre and register office, was also on Mrs Parker's agenda.
The building, which took two and a half years to construct, was originally supposed to cost around £35m but actually cost £47m.
"Lots of people are concerned about the Corby Cube £12m overspend. It looks like we won't pay off the debt until 2061. We would all be dead by then," she added.
Other candidates include Andy Sawford for Labour, Christine Emmett for the Conservatives and Jill Hope, who will represent the Liberal Democrats.