Parish council drops support for Spratton mental health unit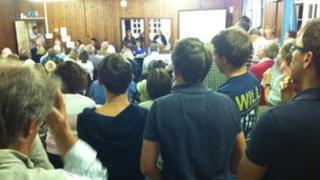 A parish council in Northamptonshire has withdrawn support for a plan to expand a mental health facility in a village near Daventry.
St Matthews Healthcare wants to increase the number of beds at Broomhill Care Home in Spratton from 15 to 99.
Spratton Parish Council initially said it was "broadly in favour" of the plan.
After objections from up to 250 residents at a meeting on Tuesday, the council has now withdrawn its support.
'Financial viability'
Broomhill Care Home treats people with dementia and similar issues.
Residents of Spratton village, which has a population of about 1,100, raised concerns about the facility becoming too big.
Paul Honeywell, who led the campaign against the plans, said: "I believe the parish council has done an extremely good job in listening to us and reversing its opinion.
"The concept of a care home is a great idea and we support it, but not on the scale that the company is planning."
Sean Sidhu-Brar, who runs St Matthew's Healthcare, said: "We have to look at the financial viability of the project and the economies of scale.
"A smaller facility would not be economically viable for us."
St Matthews Healthcare initially got permission to convert the old 15-bed Broomhill hotel into a care home in April 2011.
The plans to extend the facility by 84 beds was initially discussed in a meeting on 3 August.
Barry Frenchmen, of Spratton Parish Council, said: "We got the law slightly wrong in that we made observations rather than objections."
Spratton Parish Council said it would now submit a formal letter of objection to Daventry District Council, which will rule on the plan in November.