Connaughty Centre charities 'need to come up with plan'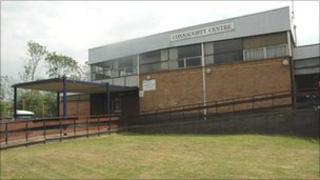 Groups that use a community centre in a Northamptonshire town will have to prepare a business plan to keep it open, the county council has said.
Although the authority does not own the Connaughty Centre in Corby, it serviced the building and had staff based there.
Following a consultation period, the Conservative-run council has decided to move its staff from the premises.
The council said the building, also used by charitable organisations and youth groups, was too expensive to run.
'Corby's heritage'
A spokesman said: "Over the past six months we have been consulting with those groups and organisations who currently use the Connaughty Centre about options for the building's future.
"We know that the building is not needed for the delivery of our own services.
"We've offered to work with Corby Youth Works to try to develop a business plan that we could then talk to the building's owners about."
The building is owned by the Homes & Communities Agency.
Carol Copeland is the director of Youth Works Community Interest Company (CIC) which is based at the Connaughty.
She said: "The council does not want the responsibility for maintaining the building any more so we are looking to see if we can take that responsibility on.
"The Connaughty Centre has been a part of Corby's heritage for the last 40 years and it is the only purpose built youth facility in the county.
"If this building goes then Northamptonshire would have lost what I believe to be the county's only purpose-built youth facility."
It first opened as a youth centre in 1969.