Irchester housing development rejected by councillors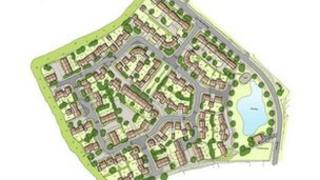 A plan to build more than 100 new houses in a Northamptonshire village has been rejected by a borough council
The outline document was submitted in March by Barwood Strategic Land for 124 homes to the west of Irchester's High Street.
Councillors in Wellingborough turned down the proposal to build on 12 acres of an 80-acre green-field site at a meeting on Monday night.
Barwood Strategic Land has said it will appeal the decision.
'Significant environmental impact'
The application caused anger among residents who have submitted a 2,000-signature petition to Wellingborough MP Peter Bone.
Tony Skipper, from Save Irchester Village group, said: "The scheme is just not sustainable for our village.
"We've worked out a neighbourhood plan that shows that we need a small development of about 20 homes that the school and doctors' surgery can cope with."
Wellngborough councillors called Barwood Strategic Land's plan premature and said the village should be allowed to develop on its own.
Planning committee vice chairman, councillor Martin Griffiths, said: "This council believes in infrastructure before development and this development will have a significant environmental impact."
Barwood Strategic Land said the application was recommended to be approved by planning officers.
Jamie Gibbins, the managing director of Barwood, said: "The Wellingborough area is in a difficult situation with a shortfall of nearly 4,200 houses.
"There were no objections to the application by any ecological groups, the Highways Agency or the Environment Agency."
The company said it would have a meeting in the next few days to consider its options.