Princess Benedikte of Denmark visits Carlsberg brewery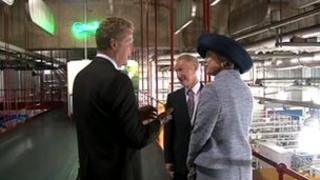 A Danish princess has been visiting Northampton to mark the town's strong trade links with Denmark.
Princess Benedikte went to the Carlsberg brewery, Northampton Museum and saw the Northampton Alive project at the Guildhall.
In 1974 the princess opened the Carlsberg brewery in Northampton - the first outside Denmark.
Benet Slay, chairman of Carlsberg, said: "We showed the princess Carlsberg beers in production and our new plans."
Danish invasion
Mr Slay said Princess Benedikte wore the same wristwatch presented to her when she opened the brewery in 1974.
"I was really amazed that the princess still had the watch and it still worked," he said.
During her visit, the princess was shown the wedding shoes worn by Queen Victoria, her great-great-grandmother.
Princess Benedikte also saw two stone murals at either side of the entrance to the Guildhall building.
They depict the Danish invasion of Northampton in the 9th Century and the arrival of Princess Alexandra of Denmark in 1863 to marry the heir to the British throne, the future King Edward VII.