Petition against plan for homes in a Northamptonshire village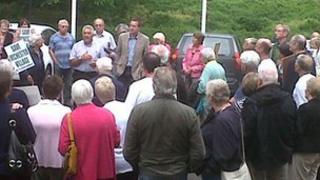 Campaigners opposed to the construction of 124 homes in a Northamptonshire village have handed in a petition with 2,000 signatures to councillors.
Barwood Developments Limited want to build on a green-field site to the west of Irchester's High Street.
More than 100 members of the Save Irchester Village group presented the petition at a council meeting in Wellingborough on 26 June.
The company said the development would provide desperately needed homes.
But Tony Skipper from the campaign group hopes the petition will go some way to stop the development, and other developments on green-field sites.
He said: "The area that the company is trying to build on is open countryside which is an area of outstanding beauty.
"It is also near Chester House, a historic location and is wrong for the village."
Jamie Gibbins, from Barwood, said: "We think Irchester is a really good site for development and the project would provide lots of benefits to the area.
"There is a massive housing supply shortfall - the housing need is desperate."
The plans are set to be considered by Wellingborough Borough Council in next month.