Plan to seize horses left on Wellingborough public land moves forward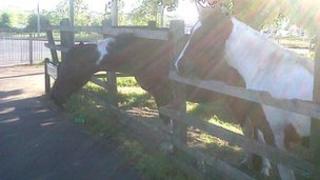 A scheme to seize horses dumped on public land in Wellingborough has taken a step forward after being welcomed by the council's community committee.
Council officer Chris Pittman drew up the plans after a spate of attacks on the animals which included one horse being been set upon by a dog.
Mr Pittman said horses left to graze on council land were not properly cared for.
The council is due to discuss funding for the scheme in June.
Conservative councillor Graham Lawman said it was common to see horses "dragging their chains" down residential streets, damaging cars and eating garden plants after being untethered from their fields by "local youths".
Mr Pittman said Police Community Support Officers (PCSOs) often had to "play cowboy" and round them up.
Under the scheme, the owners will be served with a notice period which will give them a week to remove the animal.
If they do not comply the animal will be seized by a bailiff and if the owner fails to retrieve the animal within 15 days it will be found a new home or sold at a market or public auction.
It is estimated the scheme will cost £12,000 to enforce.