Northampton's world famous shoe museum reopens after refurbishment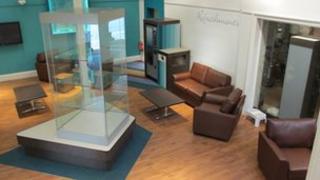 A museum with a huge collection of shoes has re-opened in Northamptonshire after a £310,000 refurbishment.
Northampton Museum and Art Gallery claims to house the world's largest collection of shoes, with more than 12,000 pairs.
The 1884 museum has had its floors raised for better access and modern display cases have been installed.
The Museum, Libraries and Archives Council designated the museum as "of international and national importance".
The refurbishment project was led by Northampton Borough Council, which gave £197,000 and the Museum, Libraries and Archives Council, which gave £113,000.
Influencing current design
Councillor Brandon Eldred, who is responsible for museums said: "Northampton's shoemaking industry is still going strong and its shoe designers and manufacturers are among the best in the world."
The museum also has displays of old shoe making machinery which shows how the process evolved over the past 100 years.
The building was opened by Guy West, co-founder of Jeffery West shoes, a firm based in the county.
He said: "The museum's shoe collection has continued to be an enormous influence for our designs over the years. It is a great resource that ought to have wider recognition.
"People have come to the realisation that the shoe trade in Northampton is still relevant and important to our history."