Smurf the hamster gets stuck to cage with magnet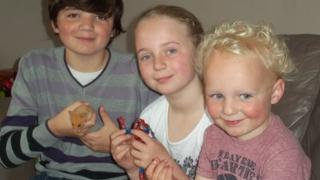 A hamster found itself stuck to the bars of its metal cage in Northamptonshire after chewing a magnet that had fallen off a Spiderman toy.
Kate Meech, of Bugbrooke, near Northampton, returned home from a day out to find the beloved family pet, named Smurf, suspended in mid air.
After initial confusion, Mrs Meech spotted the outline of a circular object protruding from the pet's cheek.
She realised the pet had eaten a magnet and become attached to the metal bars.
Mrs Meech, along with husband Gareth and children, George, three, Lucy, eight, Tom, 10 and Jack, 13, had been out at a farm park last Thursday and discovered Smurf's plight when they returned home.
'Chewing the bars'
Mrs Meech said: "We'd been out for the day and got back in the late afternoon and popped into Tom's bedroom.
"We found the hamster in mid air and stuck to the bars. It looked quite gruesome initially.
"We couldn't work out how it had happened and Smurf was in a quite a tangle.
"It was then that I saw the outline of something on her cheek that turned out to be the magnet from George's Spiderman toy."
Mrs Meech managed to remove Smurf from the cage and then took the pet to a vet.
"The hamster must have gone along chewing the bars and had somehow managed to pull itself through because it was stuck on the outside," she said.
"It was about five inches up one of the bars. My poor daughter went deathly pale and was in shock for a couple of minutes before we realised Smurf was OK."
The hamster had stashed the magnet inside its cheek and after a few days managed to push it out.
Mrs Meech said: "We took it to the vet's just for a bit of an explanation. The vet said she had never seen anything like it.
"Smurf seems to be OK. There was just a tiny mark on her cheek where the magnet had come out.
"She's now back to her normal loopy self."
The family plan to keep the magnet, said to be the size of a screw head, as a souvenir.
"I think we're going to find a special box so the kids can tell the tale when they get older," said Mrs Meech.
"We can see the funny side of it now."