Students' £25m housing complex approved for Northampton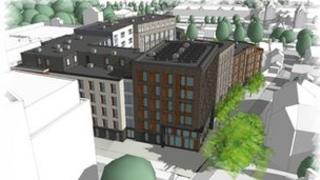 Plans for a £25m student housing project in Northampton have been approved by the borough council.
The flats will provide accommodation for 464 students and will be built on the site of St John's surface car park.
Objections were raised by residents, who said the new building would lead to noise and traffic problems.
Vice Chancellor of Northampton University, Nick Petford, said the project was vital to the university's future.
"To remain competitive the University must be able to offer its students the very best accommodation when they choose to study here and this new hall helps to enhance its accommodation offer significantly."
He added that the University was committed to working "in close partnership with other Northampton agencies and the local community to make sure it gets this absolutely right".
Building work is due to start in the summer and is scheduled to be completed in December 2013.