Pumpkins so big gardener needs helicopter to lift them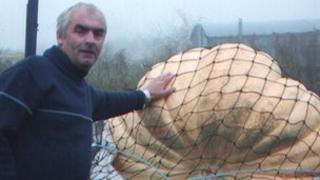 A Northamptonshire gardener has grown giant pumpkins more than 1.5m tall (5ft) in the Malaysian jungle.
Clive Bevan was approached by Malaysian dignitaries who had heard about the giant fruit and vegetables he grew in his Wellingborough allotment.
He has visited Malaysia three times to plant and tend the pumpkins and says they are "bigger than armchairs" and he would need a helicopter to move them.
"They are already massive and they are still growing," he said.
They are so heavy - Mr Bevan estimates more than 140 kg (about 20 stone) - that he does not think he could get them on a truck once they are full sized.
Talking to plants
He said: "They wanted them as big as they could get, which is what we are trying to do. But now they are bigger than armchairs.
"The Malaysian jungle is a good environment for these giant plants."
Once they have fully grown the plants will go on display.
However some of Mr Bevan's vegetables have been put to other uses - last year he donated some to be crushed by a truck a charity event in Northamptonshire.
"They have taken me to some interesting places," he said.
In 2010 a delegation of Chinese politicians and business leaders persuaded Mr Bevan to show them how to grow giant plants and he has also shared his tips with Prince Charles at various shows including at Highgrove.
Mr Bevan said there were many elements that make a giant fruit and vegetable, including giant seeds and the right environment, and said talking to them also helps.
"It makes a difference," he said.