Northampton couple sentenced over sham marriage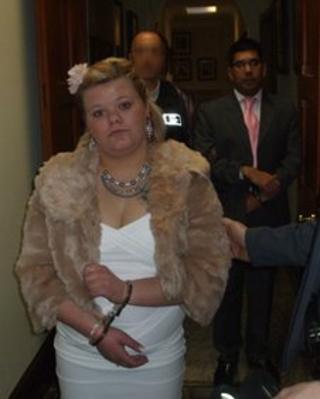 A Pakistani man and a Polish woman whose sham wedding was stopped at Northampton Guildhall by the UK Border Agency have been sentenced.
Asif Ali, 31, and Helena Puchalska, 20, of Kettering Road, were arrested as they prepared to wed on 22 December.
They admitted conspiring to facilitate a breach of immigration laws at Northampton Crown Court.
Ali was jailed for two years and Puchalska received 15 months in a young offenders' institution.
Speaking after the case, the UK Border Agency said it had retrieved notes from Ali's car after the arrests.
One, believed to have been intended for his genuine girlfriend, read: "I married Hela Puchalska bcoz of papers and I love Anna a lot. I make deal with her for £2,500."
A registrar contacted the UK Border Agency after becoming suspicious about the lack of interaction between the pair during a meeting to plan the ceremony.
'Soup and ham'
After their arrests, Ali and Puchalska initially maintained their innocence, insisting that they had met in a Northampton nightclub in March last year, the UK Border Agency said.
Ali said he had proposed in October over a curry and, in honour of Puchalska's Polish heritage, vodka.
Their stories began to unravel when they gave contradictory information about their domestic arrangements and displayed little knowledge about each other's backgrounds and interests, the UK Border Agency added.
Ali did not know the name of Puchalska's home town and said all she had told him about Poland was that it was cold, had forests and that Polish food consisted of soup and ham.
All Puchalska could say about Ali's hobbies was that he liked to drive.
Insp Andy Radcliffe, from the UK Border Agency's Criminal and Financial Investigations Team, said: "This was a marriage of convenience - convenient for Puchalska because it would have lined her pockets and convenient for Ali because it was a means to UK residency."