'War' costumes and weapons stolen in van in Northampton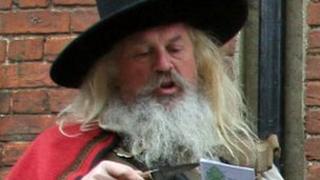 The owner of a war re-enactment company says it was a "devastating blow" having his van full of weaponry and Tudor costumes stolen in Northampton.
Steve Parish, who runs Past Alive, which teaches children about history, had his van and equipment stolen from Forfar Street in February.
Police said they expected the items were likely to be offered in local auctions.
Mr Parish said he was desperate for the return of the items.
Mr Parish said: "I couldn't believe it when I saw the van had been stolen.
"The van and its contents are really important for the company, the van is how we get around and its contents are what we use for the re-enactments."
Among the items stolen include a brass-hilted "Tudor" rapier sword, an iron-hilted broad sword and a wild boar spear.
It is estimated that the costumes, exact replicas of clothing worn in medieval times, would cost £5,000 to replace.
Mr Parish added: "I am sure whoever stole the van took it for scrap metal but then would have found all of the artefacts inside. I don't think why would know what to do with them.
"Some are original, some are recreations, but all of them were used as part of recreations for school children.
"If they are handed to sales or auctions we would like them to know that they have been stolen.
"We would really like them back."
Mr Parish said it had been impossible to insure the artefacts because of their nature. He said he had been struggling to continue with his re-enactments without the goods.
Anyone with information has been urged to contact Northamptonshire Police.