Interactive 3D model of Northampton unveiled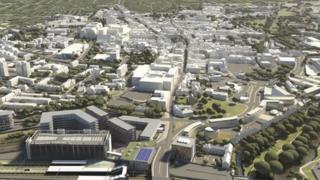 An interactive 3D model of Northampton town centre has gone on display as part of a campaign to boost economic growth.
It was unveiled at Northampton Alive, a seminar which showcased how the town would develop over the next 15 years.
The model shows the developments planned for the town, including Castle Station and the Innovation Cube.
West Northamptonshire Development Corporation (WNDC) commissioned the model to help attract more businesses to the town.
The Innovation Cube will provide premises for up to 60 businesses and is estimated to cost £6.5m.
The two-storey glass construction of Castle Station, which will replace the current railway station, is expected to cost £25m.
A spokesman from the WNDC said: "We are in a competitive environment and we want to use these designs to attract investment into the area."