Scouts Sculpture in Northampton to be moved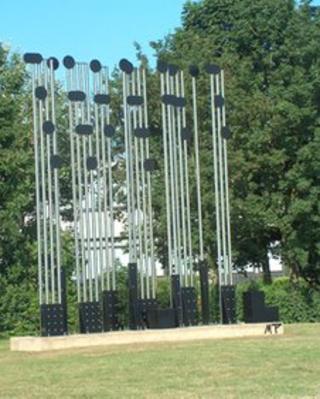 A sculpture which celebrates the scouting movement in Northamptonshire is to be moved to a new location.
The Scouts Sculpture will be moved from Northampton Borough Council's former offices at Cliftonville to the Bedford Road entrance into Northampton.
The artwork was installed at Cliftonville in 2005, but the land has since been sold to St Andrews Hospital.
The sculpture was designed by Northamptonshire artist Malcolm Pollard, who died in 2002.
It depicts the Scout's motto "Be Prepared" in Morse code.
Mr Pollard's widow, Elke, said it was created with the help of young Scouts and that her husband would have been pleased with the move.
"The sculpture will now be pointing towards Rushden, where my husband was born," she said.
Lee Jones, District Commissioner of Northampton Scouts, said it was extremely pleased that the sculpture would remain in the town.
The sculpture is expected to be at its new location by Saturday.