Bloodhound SSC to visit Northamptonshire schools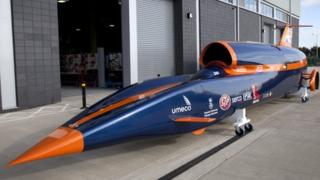 A replica of a supersonic car, which will attempt to break the world land speed record, is to be taken around 100 schools in Northamptonshire.
A model of The Bloodhound Supersonic Car (SSC), designed to reach speeds of up to 1,050mph, will tour schools to inspire students to take up science.
The car has an engine control system designed by Northamptonshire-based technology company, Cosworth.
The two-week tour began at Northampton College's Booth Lane site earlier.
As part of the tour, students will get to see how the car works and experience a virtual high-speed driving experience.
'Exciting scenario'
Len Closs, Northampton College principal, said: "We were delighted to welcome key partner organisations, including Cosworth, whose incredible engine was on display."
Cosworth Engineering will provide a V8 Formula 1 engine for the original car, which will attempt to break the world land speed record on Hakskeen Pan, South Africa, in 2013.
The technology will gather data and control the vehicle.
Richard Noble, Bloodhound SSC Project Director, said: "Students will learn about the science, technology, engineering and mathematical challenges behind designing, building and racing a 1,000 mph car."
The tour has been organised by Northampton County Council and Northampton Enterprise Partnership to promote science, technology, engineering and mathematics (STEM) to young people in the county.
Northamptonshire County Council Leader, Jim Harker, said: "By showcasing how science and maths can be applied to such a real-life exciting scenario, we hope to enthuse students at an early enough stage to inspire them to become the next generation of young scientists and engineers."