Northampton Carlsberg production to expand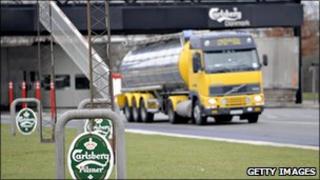 Up to 60 new jobs are set to be created at the Carlsberg brewery in Northampton when its operation expands.
Proposals for a new bottling plant have been approved by the West Northamptonshire Development Corporation (WNDC) committee.
The new building, which will face Bridge Street, will contain offices and the bottling hall.
Carlsberg said it will invest £25m in the expansion project and hopes to start production in March next year.
Matt Callan, brewery supply chain director, said: "The jobs will be in production and packaging, engineering, some in management and others for forklift driving."
Carlsberg also recently invested £40m in upgrading the capacity and capability of the plant.
Mr Callan added: "We think it will take around a year to construct the new building so we are aiming to start production by March 2013."