Gardens at Delapre Abbey in Northamptonshire restored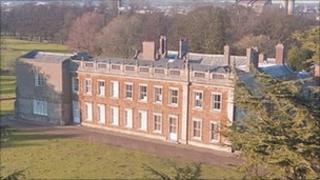 Work to repair the stone walls and rockeries in the grounds of an 850-year-old abbey in Northampton is just weeks from completion.
Volunteers have spent four months restoring the gardens of Delapre Abbey on London Road.
It follows £40,000 of work on the estate's water garden as part of a project run by Northampton Borough Council and Friends of Delapre Abbey.
The estate now offers a range of public events such as concerts and tours.
Stonemasonry students from Moulton College and the Friends of Delapre Abbey (FODA) have worked on the outdoor water gardens since October last year.
'Plans for abbey'
Dee Whitehouse, volunteer and member of FODA, said: "All of the volunteers have worked really hard on the outdoor gardens, as well as the repairs to the stone walling.
"Volunteers planted more than 10,000 bulbs over the course of three weekends. We are really looking forward to the spring."
Since 2001, improvements carried out to the estate include a tea room, a Victorian greenhouse and garden restoration work.
The works have been funded by the borough council, a range of grants and fundraising by FODA.
Now the partnership behind the abbey is applying for a £3.5m Heritage Lottery grant for further work such as new toilets and a bell tower.
Mick Ford, borough councillor and member of the Project Board for the Heritage Lottery Fund for Delapre Abbey, said: "We have a lot of plans for the abbey.
"Last year we had a footfall of more 18,000 to the abbey and we only have two toilets - we want to address that. We also want to see improvements to the clock tower and second Victorian greenhouse."