Northampton arts collective to move to cultural quarter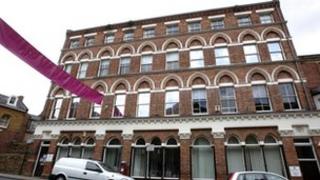 An arts collective forced out of its home in the wake of plans to build a new bus interchange in Northampton has found new premises.
The Northampton Arts Collective (NAC) is moving to 9 Guildhall Road near the town's theatre.
The group has left Sheep Street's Old Fishmarket which is to be demolished to make way for the new interchange.
The NAC will relocate to a four-storey building which is owned by the county council.
The borough council has also agreed to provide £25,000 a year to the group over the next three years.
Christine Midgeley, the NAC's chairman, said: "We are so delighted and proud that both the borough and county councils have come together to support us in this way."
The new premises will stage exhibitions and events but the move is still in its early stages as adjustments need to be made to the building before it will be ready.
Mrs Midgeley added: "We have been developing an education arm and we are hoping to have workshop spaces upstairs and there is room on the upper floors for artist studios.
"We need to put toilets on the ground floor and make a few other adjustments."
The leader of Northampton Borough Council, David Mackintosh, said the group was important to the life of Northampton.
"The NAC plays in important role to the local economy and I welcome the move to the arts quarter where the group can work alongside the Royal and Derngate Theatre and Northampton Museum."