Plans for Rushden Lakes shopping park submitted to council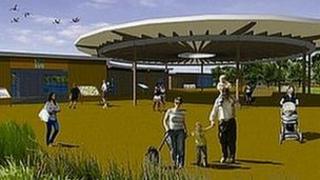 Plans for a new £50m shopping park on the outskirts of Rushden could be given the go-ahead this summer.
Developer LXB Retail Properties has submitted an application to build Rushden Lakes, a retail park for more than 20 big name shops, opposite Waitrose on the A45.
Planning officials at East Northamptonshire council are expected to consider the application in June.
If approved, the scheme is expected to create 1,500 jobs.
The application includes plans for a home and garden centre, retail units, a drive through restaurant, a visitor centre, a hotel, creche, leisure cub and marina.
Gavin Stollar, on behalf of the developers, welcomed the development.
"We are delighted to have finally submitted our proposals for the Rushden Lakes scheme to East Northamptonshire Council," he said.
"As we have said all along, Rushden Lakes has the potential to create new local jobs, provide a new high quality leisure and tourism destination whilst also complimenting Rushden's existing local retail offer."
Steven North, leader of East Northamptonshire Council, also welcomed the project.
"We need more developments in this area, we need people coming to the place, and we need the jobs," he said.