Tesco supermarket to be built in centre of Desborough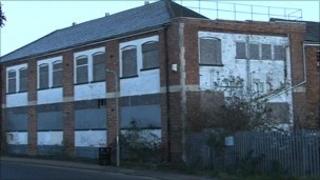 A new Tesco supermarket is to be built in the centre of a Northamptonshire town, after councillors voted unanimously for the plans.
It will be built on the former Lawrence's Shoe Factory site in Desborough, once a restrictive covenant has been removed.
Kettering Borough Council's planning committee approved plans in a meeting that lasted six hours on Wednesday.
An application for a Sainsbury's store at Magnetic Park was rejected.
Pamela Goodman, who chairs Desborough's town centre partnership, said she was delighted.
Lifted quickly
"I am really happy this will go ahead because we are in desperate need for regeneration in Desborough," she said.
Residents opposed to the plans said they were disappointed at the decision.
Paula Holmes, secretary of the Desborough Community Development Trust, said: "We could wait for up to three years for the covenant to be removed and that would be before anything could be built."
The restrictive covenant prevents food being sold at the Lawrence factory site. Councillors and a spokesperson for Tesco said they were confident it could be lifted quickly.
Louise Gosling, from Tesco, said: "It might take as long as three years to lift the covenant or less than a year.
"We will work with the borough council and our partners to make it happen as quickly as possible."