Dr Who writer holds assembly at Weedon Bec Primary School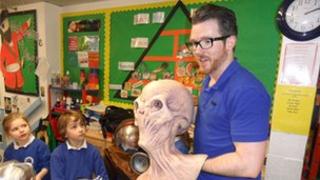 A Northamptonshire man who is part of the writing team on the Dr Who TV series has returned to his old school.
Tom MacRae went to Weedon Bec Primary near Daventry to inspire the pupils to develop their creativity.
He was invited by two pupils, Libby Ward and Lucy Church, who wrote to ask for help with their writing.
Head teacher Anthony Witheyman said: "For our children it is most important that we had Tom in because he was a pupil here."
Mr MacRae also took a few of the props from the Dr Who set to show the children.
'Career boost'
Mr MacRae explained how, as a child in school assembly, he had the idea of a magnifying glass that allowed people to look through time. He used the idea in a Dr Who episode called The Girl Who Waited.
"I have used quite a few playground games and school daydreams in shows, particularly programmes that have a magic element to them."
"The Girl Who Waited has probably done more to boost my career than anything else I've done. I owe the huge boost it gave me to the idea I had when I was six years old," he said
Many of the pupils took a keen interest in the alien masks that Mr MacRae took to the school.
Pupil Ramon Canham, said: "Dr Who is my favourite programme on television and I really like the Daleks."
Mr MacRae said: "All kids are natural storytellers. I've been quite successful at what I've done with no extra benefits than the backgrounds that these children have. They could be successful too."