Northampton urban skate park plans faces two-month delay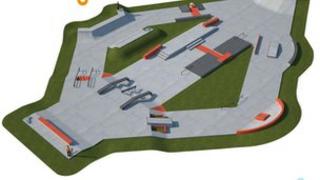 A new £250,000 skate park that is to be built in Northampton will be delayed by up to two months, the borough council said.
The new facility was due to be built by June, but the council said it wanted to move its location by about 50m.
This will make way for extra car parking spaces for the new enterprise zone, the council said.
Northampton Skate park Action Group (NAS) said it was disappointed the initial plans would be delayed.
Kevin Charles, Chair of NAS, said: "This news came as a surprise to the committee and the user group, fundamentally because the communication with the council had been amazing until this point."
'Fast pace'
NAS said user groups had been involved in the whole process until this final decision to move the park.
"The council had engaged the local youth of Northampton and we had been involved in finding the site and planning," said Mr Charles.
"This has suddenly disengaged the youth."
The leader of Northampton Borough Council, David Mackintosh, said the council had to make the decision quickly.
"The skate park is very close to the new enterprise zone and lost of issues are coming at a fast pace to us that we are having to consider making changes," he said.
The borough council said it would be working hard to keep the delays to a minimum.