Escaped ram Randy given reprieve from slaughter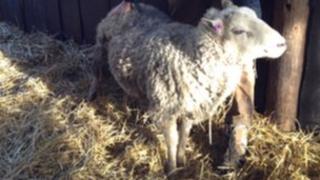 A ram which jumped a fence to breed with more than 30 ewes has become the star attraction of a rural centre in Northamptonshire.
Staff at West Lodge Rural Centre in Desborough have delivered 15 lambs fathered by the 11-month-old ram - named Randy - and anticipate 20 more.
Randy had been destined for slaughter but his exploits during his 24-hour escape in July have won him a reprieve.
He is to be kept at the centre with limited access to the ewes.
Farmer Ryan Thompson, who lives at the farm, said that finding out that so many of the ewes were pregnant was a "bit of a shock".
He said: "He's a bit of a naughty ram isn't he. He serviced quite a few sheep a month before we planned to get the rams in with the ewes.
'Light and sprightly'
"He was young, light and sprightly and he managed to clear the 4ft fence."
But because Randy, a texel ram, was so young, he only managed to reach the shorter ewes.
Mr Thompson added: "We have noticed today that it's only the shorter sheep giving birth early.
"We usually expect the lambing to start in February, and we had the scanner in January telling us we had lambs due in December."
Despite his height disadvantage, Randy covered 30% of the farm's sheep in the 24 hours he escaped.
It was not the first time Randy has caused problems for the farm.
He avoided slaughter in November by escaping his pen the night before he was due to go to market.
When the farmer tried to round him up for market for the second time earlier this week, the creature leapt five feet in the air and head butted him.
Farmer Ed Dee said: "He sent me flying. I'm bruised, have a numb jaw and I'm plastered in mud."
Despite his behaviour, Randy's owners have grown fond of him and decided to keep him on the farm.
Mr Thompson added: "As he is obviously so productive and is becoming a bit of a star maybe we will keep him at the farm and allow him permissive access to the ewes."