Northampton building suffers internal collapses after fire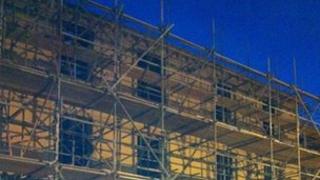 There are fears for the future of a listed building in Northampton after a fire damaged its roof.
The grade II listed former Angel Hotel in Bridge Street has suffered internal collapses since the blaze was extinguished on Monday.
It has now been covered in scaffolding and cordoned off.
The whole of Bridge Street remains closed to traffic and the cause of the fire is still under investigation.
Neil King, of Northamptonshire Fire and Rescue Service, said: "The main concern is the safety of the building.
"It's a public safety issue more than anything at the moment."
The building housed two bars, Fat Cat Bar and the Balloon Bar.
The closure of the bars follows the closure of one of the town's largest nightclub venues, Lava Ignite, in October, which has prompted concerns about the night time economy of the town.
Northamptonshire County Council has consulted with business owners in the area and has vowed to get the town centre open for business as soon as possible.
Once the safety work has finished a temporary one-way system will be introduced to the area.
Bridge Street is to become one-way for all traffic, Angel Street will become a one-way street between Guildhall Road and Fetter Street and the section of Angel street to the west of Fetter street will become access only.