Chester Farm house in Northamptonshire may be repaired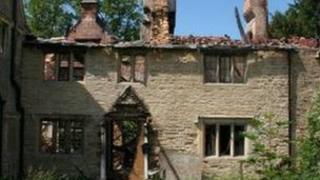 Plans to repair a fire-damaged farmhouse in Northamptonshire are being considered by the council following an insurance payout of £1.9m.
The grade II listed building on Chester Farm in Irchester, which was built near the site of a walled Roman town, was severely damaged by the blaze on 2010.
Northamptonshire County Council is now proposing to use the insurance funds to repair the building.
Once repaired it could be opened to the public.
County councillor Tim Maguire, who is also a borough councillor for Irchester, said: "This is a big deal for Irchester.
"I believe the long term plan is to turn the site into a museum or heritage centre.
"There is a lot going on there, it has a lot of old buildings, and there are many Roman finds that haven't been put on display yet.
"A new museum or heritage centre would be really good news."
The council is currently discussing the plans, but all decision on work will need approval from English Heritage and the Borough Council of Wellingborough.
Jim Harker, the leader of Northamptonshire County Council and chair of the Chester Farm project board, confirmed in September that the long term plan for the site was to open it to the public.
He said: "The council is currently undertaking a staged approach to planning for the site's future.
"Work on opening up the site to the public will continue at the same time as progress is made towards securing detailed planning permission.
"A key aspect of current work is the development of a comprehensive Conservation Management Plan, including options for interpretation of the site."
The council took control of the site in 2004.