Cemetery chapel in Northamptonshire to be sold as a home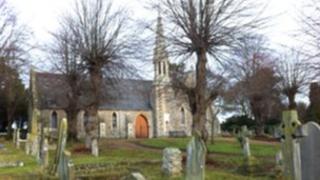 A disused Victorian cemetery chapel in Northamptonshire, which has been empty for more than 60 years, is up for sale as a house.
The old chapel on Stoke Doyle Road in Oundle is expected to be sold for about 200,000.
Oundle Town council has put in an application for change of use to the building although the cemetery is still being used.
The chapel is being used as a storage facility and needs refurbishing.
Councillor Paul King from Oundle Town Council said: "The outside is quite impressive because it has beautiful stonework, but this would be a major project for someone."
'Special covenant'
The building was initially put up for sale 18 months ago as a business but councillors decided to change it to a residential property.
"We had a few people interested who wanted to buy the property as a house but we couldn't allow that at the time," said Mr King.
The chapel was built in the middle of the 1800s for both non-conformist and conformist burials according to local historian David Wills.
He said: "Methodists and Baptists were buried in the south of the cemetery, while Anglicans were buried on consecrated ground in the north."
The area around the chapel will continue to be used as a place for hearses to park to unload coffins before they are taken to burial sites, and a covenant would be drawn up to prevent any occupants causing a noise nuisance to mourners.