Northampton urban skate park plans unveiled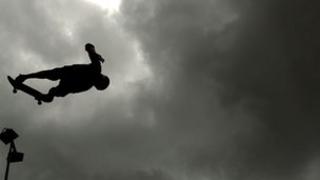 A new £250,000 plaza skate park could be built in Northamptonshire as early as summer 2012.
The final design for the park in Northampton, which will be located at Midsummer Meadow on Bedford Road, recently went on display at the Guildhall.
A plaza skate park mimics what an urban city centre plaza would look like with stairs, banks and rails.
The design was inspired by Stoner Skate Plaza, based in Los Angeles, US.
'On the map'
Kevin Charles, Chair of Northampton Action Skate group (NAS), said: "This will be the 1200 sq meters of the best premium plaza skate park in the UK."
Northampton Borough Council has helped to provide the funding and land for the park.
Councillor Tim Hadland, Northampton Borough Council's cabinet member for regeneration and enterprise, said: "This is something that could put our town on the map as a venue for these sports, as well as providing an excellent place for young people to meet and enjoy their sport."
Plans will be submitted to the borough council in February and the skate park could open in the summer.
"It is a 12 week build schedule but the park builders told us that they could have it built as early as June," said Mr Charles.
The park has been in the planning stages for a number of years and has support from world-class skateboarders like Tony Hawks and the MP for Northampton North Michael Ellis.