Karl Beetson says Christmas lights are an 'addiction'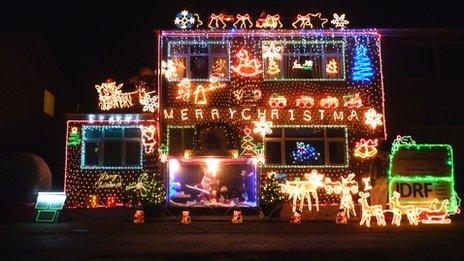 His unusual hobby began after his father strung a set of festive lights around a tree.
But now Karl Beetson's house has become one of his home town's biggest Christmas attractions.
Every year he covers the five-bedroomed home in Wellingborough, Northamptonshire, with thousands of Christmas lights.
Among the dazzling features is a computer-controlled set of figures which he crafted himself.
And since 2006, all the lights have been synchronised to music, which ranges from Mariah Carey to classical.
Mr Beetson, 22, from Torrington Road, said he began preparing the display in July.
He said: "It has become a kind of tradition-come-addiction. I enjoy the mental challenge that the display can create."
The lights are controlled by seven different computers and dance in time to music. Mr Beetson began putting the lights up around the house in October.
Pride of place this year is Claus and the Paws band - animatronic figures, including Father Christmas, a reindeer, a polar bear and a penguin, who appear to play musical instruments.
Mr Beetson said: "The animatronic movements were painstakingly programmed by me and the puppets and stage were also all built from scratch."
The display adds around £150 to the Beetson's electricity bill - but he cannot put a figure on exactly how many lights it includes.
He added: "I don't count the lights because it's not about being in a competition."
Each year the display raises about £800 from visitors who give the money to charity.
"When we first put on the music display, people left money on the door, so the following year we decided to raise money for charity," said Mr Beetson.
This year, the family has chosen to raise money for the Juvenile Diabetes Research Foundation.
Mr Beetson has diabetes himself, a condition which hindered his dream to be an airline pilot. He is currently doing a research study into diabetes at university.
The Beetsons held an official switch-on of the display on 24 November. Many people came to see what the display looked like.
"The turnout was amazing and it was a joy to meet the community who love the display so much," said Mr Beetson.
Related Internet Links
The BBC is not responsible for the content of external sites.