Fire badly damages 13th Century pub in Milton Keynes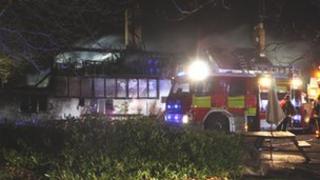 A fire has severely damaged a 13th Century thatched pub in Milton Keynes.
It took more than 40 firefighters to tackle the blaze at the The Swan Inn on Broughton Road, Milton Keynes Village.
The thatched roof was destroyed and the first floor has been left badly damaged.
A Bucks Fire and Rescue spokesman confirmed that no one was hurt in the fire, the cause of which is being investigated.
Crews managed to save some of the pub's extension and restaurant area.
Fraser Pearson, of Bucks Fire and Rescue, said crews tried to save as much of the building as possible but the fire was difficult to extinguish quickly.
"The thatched roofing repels water so it has taken a long time to put out," he said.
"They tried to save as much as they can, they managed to save some of the ground floor and the extension where the restaurant area is but we are not sure at this point how much of the rest of the pub can be saved.
"It is too early to say."
Crews were called to the pub just after 15:45 GMT and firefighters from Broughton, Bletchley, Great Holm, Newport Pagnell and Buckingham attended the scene.
Firefighters are likely to be at the scene throughout the night.